All images below are my own photographs. I often erase the background of my images to make T-shirts and Stickers at Redbubble. I would be happy to help others erase the backgrounds of their images for their purposes. These images are also great as additional graphics when customizing products at Zazzle.
I can remove the background for almost any subject; the simplest subjects can be done as quickly 1-5min:
Most other simple subjects take me less than 30 min:
Completed within 17 minutes
Completed within 23 minutes
Sometimes I add to the subject if part of it goes beyond the picture frame (depending on what I have available):
I've used similar techniques when editing scanned pages of a book that had parts of it missing because of the binding.
I can also give parts of the subject, such as insect wings, some transparency if necessary:
Relaxing in Contemplation in the Temporary Season:

Sometimes I edit the subjects if necessary; see my photo-editing capabilities here
I can also work with soft/uneven edges (including subjects in motion, or those that gradually fade in the distance), as well very intricate details. The time to work on these can vary. Most of the complicated work I've done in the past have been completed within 2 days; though the simplest subjects can be done in less than an hour.
Cat used in Soft and white like snow with a drop of golden sun:

The Blooming, the Withering, and the Everlasting: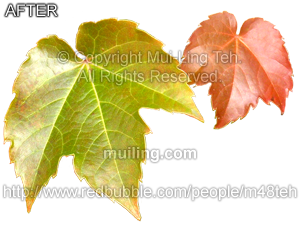 This one only took me 6 minutes as I was allowed to work on it in black and white and was able to use special techniques to get what I wanted.
Details of irregular edges:
I only went into extra detail for this flower since it was just for myself. But I would not spend extra hours doing this on client images if they don't need it. If they don't mind paying for the extra refinement however, I would do it.
The flower above, including the time spent on the extra details, was done within 1.75 hours (which may have included breaks).
Sometimes, having a bit of the background around a certain area can leave a greater effect.
Swan used in Captive Angel:

I always do a well done clean job on my background removals. I ensure that no spot is missed; not even anything that is nearly invisible; the perfect outlines of my stickers show how clean my backgrounds are.
I tend to finish most jobs within a day; if not, 3 days at the most.
All content here is © Copyright Mui-Ling Teh, All Rights Reserved, and may not be used without my permission. Any site using my images against my conditions have not sought proper permission and should be reported or brought to my attention immediately.