At a young age, I would have never imagined treating photography as an art form. But now I realize, more than ever, that a photography is not simply about pointing and shooting the camera. I still use compact point and shoot cameras but it is usually enough for my niche. My photography is entirely self-taught; it was probably not until 2008, after I joined Redbubble, that I began to take it seriously. I have however been taking photos since an early age because I travelled a lot, and had done internships in Edmonton and Japan. Back then I was not taking great consideration in the way I took my photos.
I initially joined Redbubble to showcase my drawings and paintings; but as I explored the other works there, I felt like sharing my photos from my travels. Unfortunately there were not too many good ones; any decent photos I had captured were a matter of luck. Back in those days, while I was travelling, I also had to be conservative over the space of my memory card (which was only 256MB) and the batteries - especially since I also loved taking videos. A lot of my photos from Japan especially were taken at low resolution in order to prevent my memory card from getting full too quickly - something I regretted after I started becoming interested in Photography.
While I was in Edmonton, I used a Fuji E-510. I didn't go out very much during that period since it was often too cold; but towards the end of the internship I took a trip to Banff. I continued using the Fuji camera during the first half of my internship in Japan. As I was very fond of Japan, and was there during the summer, I went out every weekend; I took many photos and videos that my memory card and batteries were often used up quickly. While lacking sufficient memory and battery power, my Fuji camera was only able to take videos 60 seconds at a time; which would not have been very practical in recording the Awa-odori festival in Tokushima that I was looking forward to later in the summer. I began to feel that I needed a new camera, but didn't want to spend too much money for one. One day, while visiting a friend, she showed me her new camera, which I got to try out. Still a compact camera, but better than what I had; and not too expensive. It was also able to take long videos - so I bought myself an Olympus FE-220 along with a 500MG memory card. My internship was in Hayama, Japan; a town within the Miura district of the Kanagawa prefecture known for its green hills, beaches and seas ('Hayama' means 'leaf mountain'). During the internship I also visited Kamakura, Yokosuka, Yokohama, Enoshima and various parts of Tokyo; and later visited southern cities including Naoshima, Takamatsu, Kurashiki, Tokushima and Fukuoka.
After joining Redbubble, I began experimenting more with my Olympus camera. One day I wanted to try something with origami, and went off to fold a crane. Since I was daydreaming I didn't pay attention to how small the paper was; and after completing the crane I realized it was really small - that was when I created the work known as Born from the hand. The folding of the crane wasn't difficult; photographing it, on the other hand, proved to be a challenge. After various attempts to get a photo that looked decent, I realized, more than ever, that photography is an art. First, I needed to create a good composition; I tried various combinations of hand poses and crane placements, until I finally settled with the presentation of my hand framing the crane. Secondly, I needed to take the photo well. It was one thing to work with a small subject and an ordinary lamp; in my initial trial shots my crane often came out too bright. Additionally, I was using a compact camera with no tripod; and taking macro shots on my camera required both the camera and subject to be extra still. I had to use one hand to hold and shoot with the camera on macro mode - while keeping it still; while keeping the other one still in front of the camera with a very light and delicate crane sitting on it; having good control of both hands was difficult. There were further challenges with this particular photo, including the fact that sometimes the crane fell off my hand as I took the picture. Occasionally new ideas introduced new challenges, but overtime I practiced and got a better hang of photographing my miniature origami, using whatever props I had, and whatever backdrop I could set-up as I did not (and still don't) have a photo studio - most often I placed a piece of clothing over a box to use as a background. Coming up with ways of presenting my origami was like designing sets for a play, and was lots of fun - photos like these were very much an art. As I took more photos of my origami and played with the settings of my camera, I got a better understanding of what worked best.
Learn more about my origami here.
Later in 2008 I began an exchange in Rome. Prior to heading there I bought an extra memory card; and while I was there, I took more consideration into the photos I took. I still took many photos on low resolution if I was only documenting something, but remembered to switch to the highest resolution when I saw something worthy of hanging on my wall.
While in Rome, my class and I visited many sites; as well took a trip to Southern Italy, and later one to Northern Italy. Towards the end of the Northern Italy trip we visited Venice. Venice was my favourite city in Italy, but unfortunately it was also where my Olympus FE-220 camera broke. That year, during the Biennale, it dropped on a sharp pebble on the ground that punctured the screen. I was still able take pictures but I could not see what I was taking, and my camera did not have a view finder, so everything was pure judgement. Venice was the last place we visited and I spent the evening and the next morning doing "blind photography". If I wanted to change a setting I could not see the menu, so I had to bear in mind how many times I were to press up, down, left or right to get the option, which by my gut instinct I thought would be the best as I was not able to preview it. I also had to make sure I kept my camera still for a reasonable amount of time for the night shot settings.
After returning from Northern Italy it was time to get a new camera - as disappointing as it was that my Olympus FE-220 broke, I tried to think it was an opportunity to get something better. Although I had been taking better pictures Italy, I could not always take everything that I wanted to; there were many incredibly large works of ancient architecture; much of which could not fit within the frame of my camera. At the camera store however, the prices of the DSL cameras scared me - living in Rome was already expensive enough. In the end I bought an Olympus FE-340 - just a slightly upgraded version of my Olympus FE-220. But at least I was able to re-use my memory cards and battery - so I didn't have to worry about losing battery power since I had a spare. Even if I were able to afford an expensive camera, it is heavier, and I'd have to worry more about it getting stolen (a classmate had a very expensive camera stolen in Venice). While I still wasn't able capture large pieces of architecture within the frame of my camera, I knew how to stitch images together in Photoshop.
After my exchange in Rome ended in December 2008, I began an internship in London, UK. Throughout my time in Italy and London I didn't have a tripod. Although there have been times it could have been easier to have one, I felt I didn't need it; and when I wanted to be inside my own pictures I usually found someone who could take the photo for me. Towards the end of my London internship I planned a trip to Edinburgh, Scotland. My flight there was at 7 in the morning; and knowing that I may be unable to ask someone to take my picture for me so early in the morning, I bought a tripod. Since then I began using the tripod frequently in my origami photos, and have been able to get better results with greater ease.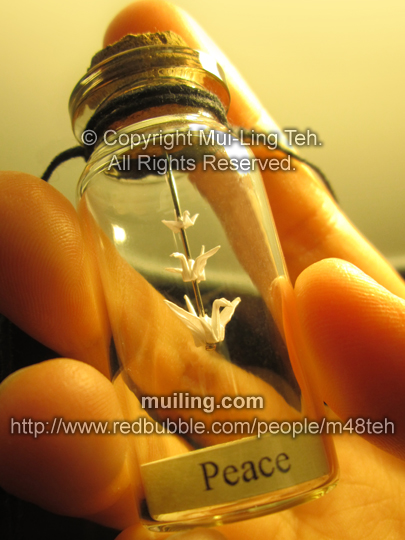 In 2011 I took a trip to Singapore and Japan. The intention of the trip was not for a vacation, rather a matter to look after, and it came up on short notice. At the time, someone who had borrowed my camera didn't return it to me, so I borrowed my brother's Casio EX-FC100, and returned it to him after I came back. I haven't yet posted many pictures from this period, as the past few years have been very busy, but may post some overtime. The following year my brother bought himself a Canon PowerShot ELPH 300 HS and gave me his Casio, but I got to use his Canon on a few occasions. I missed the 4000 x 3000 pixel resolution of the Canon, so I bought myself a Canon PowerShot A3400 IS in December 2012.
I launched muiling.com early 2013, and haven't been pursuing my photography much since, so I haven't used my Canon PowerShot A3400 IS much for professional purposes other than documenting my artworks to post on my website - most of which are my bottled origamis that I began in 2014.
I don't remember when it began, but I've had a few people ask me what camera I used. Some asked me this question when they saw my origami photos, some thought my photos from Edinburgh were taken with a professional camera (I was simply lucky to have good weather on that day). I've only ever used compact cameras, and they were, for the most part, sufficient with the work I was using them for. Surely I could do more if I had a camera that could zoom far, take super-close macro shots, or take things in the dark or in action more easily; but I do not yet feel the temptation to upgrade my camera for those features. There have been times I wanted to zoom out very far to take something, or get a good shot of something in low light, but overall I have been satisfied enough with my compact cameras.
To summarize, the cameras I have used to date are:
Fuji E-510; used Jan 2006 - August 2007 in Banff, Alberta and in various cities in Japan (I got my Olympus in July but still used my Fuji on a few occasions after).
Olympus FE-220; used from July 2007 to October 2008 in various cities in Japan; for my earliest origami set-ups, still lives and portraiture photography; and in various cities in Italy.
Olympus FE-340; used from October 2008 to February 2012 during my last days in Rome, in London, Edinburgh and Barcelona; and more miniature origami set-ups, still lives and portraiture.
Afterwards I switched back and forth between the Casio EX-FC100 and Canon PowerShot ELPH 300 HS. Since December 2012 I've been using a Canon PowerShot A3400 IS, which I have mostly been using to document artwork.
It is funny how I initially joined Redbubble to showcase my drawings and paintings, and ended showcasing more photography than fine art - this is even more so the case at Zazzle. Many people now even know me more for my photography than my art. I do not plan to stop taking pictures, but I am hoping to get back more into it my art too.
See examples of my photo-editing and enhancements here
I can also eliminate backgrounds in photos, see examples here
See examples of my photo-stitching here
To see more examples of my photography, visit my portfolio on Redbubble and Zazzle.
All content here is © Copyright Mui-Ling Teh, All Rights Reserved, and may not be used without my permission. Any site using my images against my conditions have not sought proper permission and should be reported or brought to my attention immediately.