Since 2011, I have been more poetic, and shared more poetry at Redbubble.
All the writings I have in Redbubble so far can be seen here – these include my images that have my writings within the description – some which have been there since the time I posted my works, while others I added later.
Some of my writings were done while I was in bed; in the summer and fall of 2012, I frequently wrote as a form of therapy whenever I had trouble falling asleep. I kept my iPhone next to my bed typing musings in a single 'note' (using the 'Notes' application) – some of which I wanted to share some day, some still incomplete. One day, while fiddling with the iPhone, I lost the note that contained my writings; presumably due to some kind of bug. I was really sad.
Shortly after the incident I decided to put together a book on Blurb with my images and writings as a tribute to my lost notes; similarly to how I made a calendar in tribute to the origami collection I lost a few years before.
I called my book "Art and Words from the Heart" in tribute to my facebook page that I created the year before - which I also later used to name my website.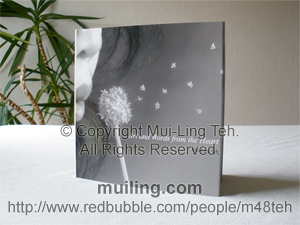 At present my book is only available in hardcover with a dust jacket, but I can create one in another format upon request; or if anyone is interested in a custom book with my works in it, feel free to contact me and we can discuss the details.
This book contains a sample collection of my images; each with my own verses and poetry laid over them.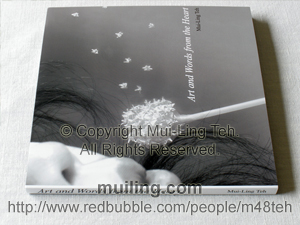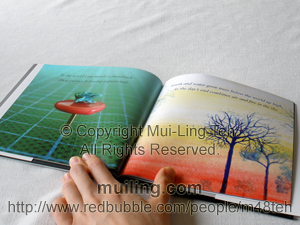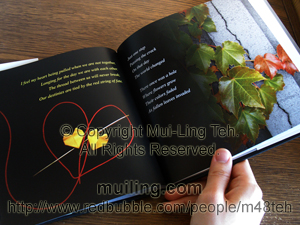 See more images from my book here.
Learn about some of my thoughts on my book here.

Here you can also learn more about the paper and cover options that I used for my book; as well as a few things to bear in mind while creating a book on Blurb. I am no expert with the site, but am able to describe as far as what I have experienced. Many have seen my book in real life and thought the quality looked great, so at the least if they used the same options as I did, they can probably expect great results. This will, of course, also greatly depend on the quality of their own images.
Find discounts on Blurb here.

I am affiliated with Blurb, therefore when books are made or purchased at Blurb through any of my links within my website, I can receive a commission, even if the purchases are not on my books.
All content here is © Copyright Mui-Ling Teh, All Rights Reserved, and may not be used without my permission. Any site using my images against my conditions have not sought proper permission and should be reported or brought to my attention immediately.