In the Japanese art of paper folding, the paper crane is a common symbol of peace and good luck. It is also believed that if one folds a thousand paper cranes, their wish would come true. Combining this concept with the western culture of making wishes while blowing dandelions, I created the piece called "Wish", depicting blown dandelion seeds as miniature paper cranes.

The paper crane dandelion is a straw with a bunch of miniature origami cranes at the end. I used my computer screen for the background, and the paper crane 'seeds' were taped to the screen. "Wish" was also photographed with an Olympus FE-340.

(Last updated 2014/08/25)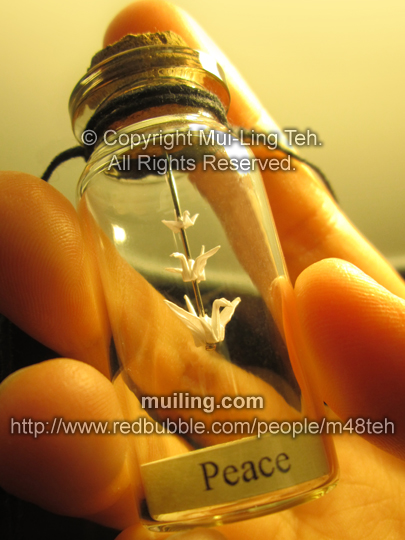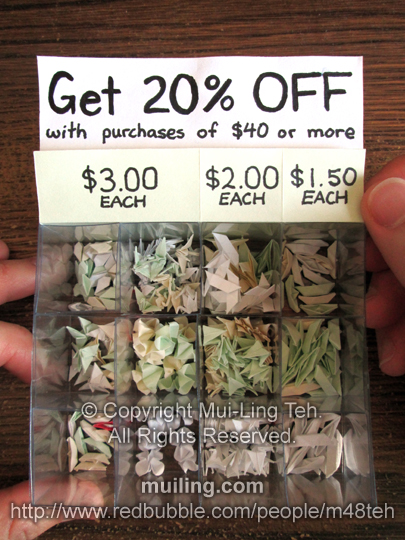 In my past few events, my tables/space have been mostly dominated by bottled origami pieces. In a small area however I would always also have a collection of assorted miniature pieces that I sell for between $1 - $3.
Among my bottled miniatures, my spinning pinwheels have been one of the most popular. As such, I have decided to start making some on their own. These are slightly bigger than my bottled ones and they spin beautifully!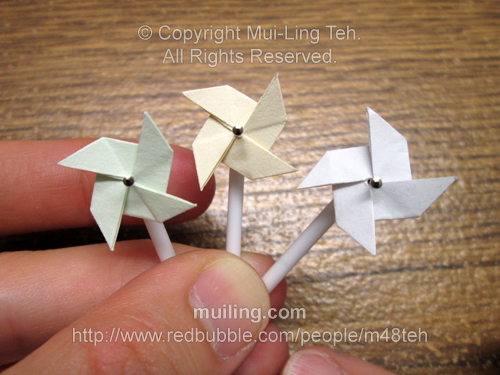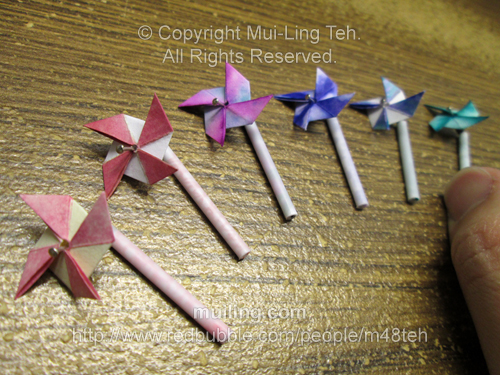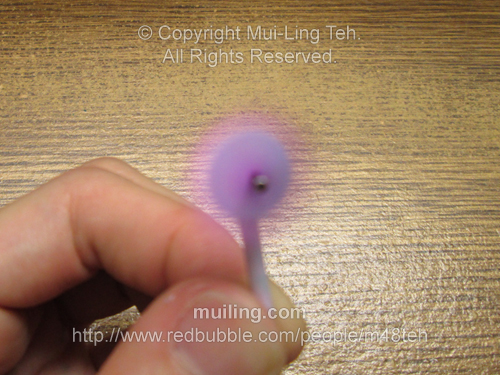 Plain paper pinwheels are available for $4
(Available in green, yellow, or white)

Hand coloured pinwheels are available for $5
Individual origami pieces and pinwheels can be delivered if desired, but bear in mind that I may charge for delivery on small purchases.
Bottled Miniatures:

Most of these bottled origami miniatures come with messages, but I can also make other custom messages upon request: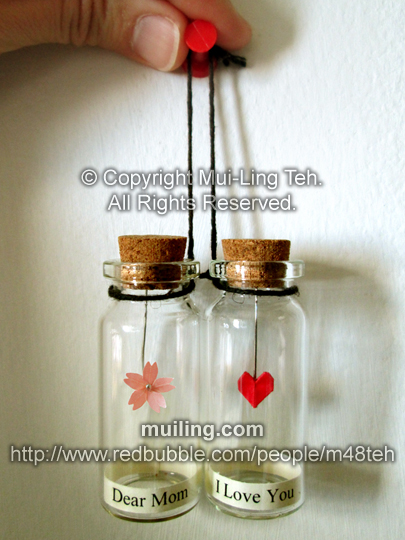 I have also done custom two bottle necklaces: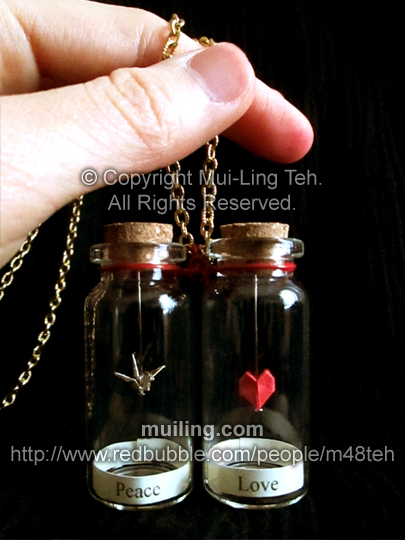 Prices of these custom necklaces vary depending on what is inside. You can expect them to be at least the sum of two models as necklaces, plus extra for the wiring. See below to see examples of some of my individual bottles and their prices.
Most of these range between $15-$25, with some being much higher.
Hearts with Neckties - $15 each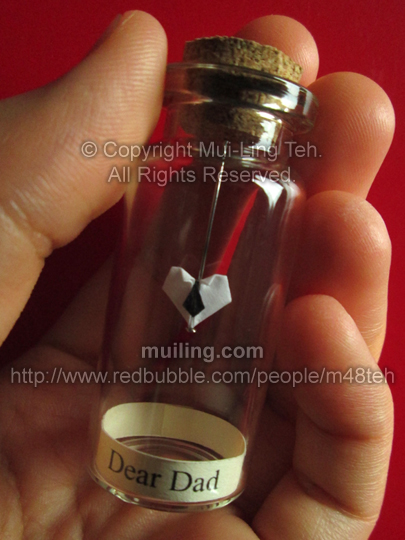 Cherry Blossoms - $15 each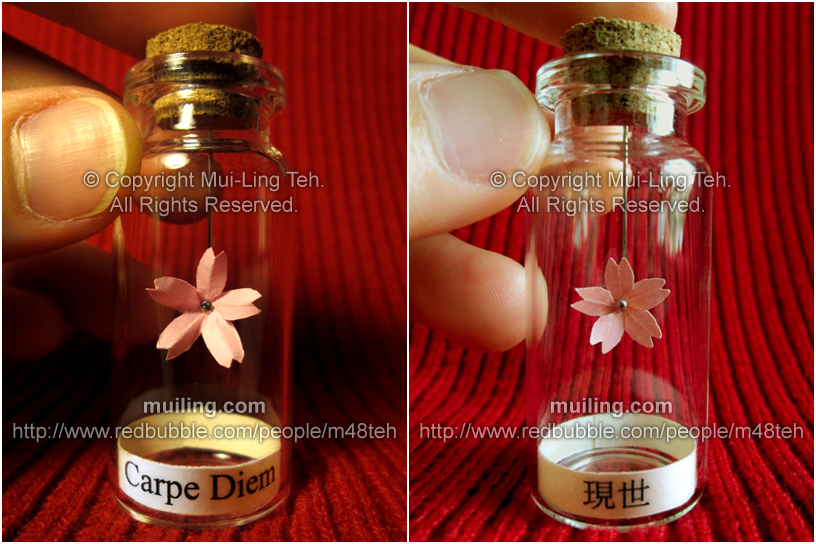 Like any bottle, these can come with any message of your choice

(The appearance and shade of pink of each folded cherry blossom will vary. In order to ensure customer satisfaction, I send of photos of requested items before delivering them.)
"Peace" (smaller version) - $35 ($40 with a necklace string)

"Life is a Journey" - $40 each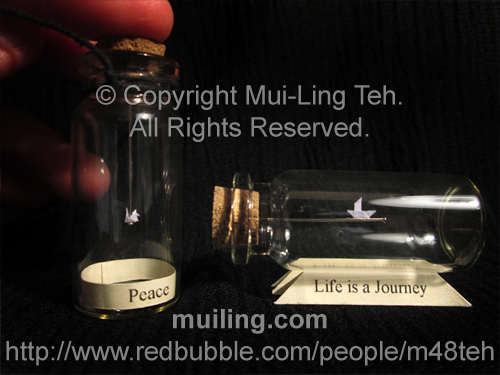 These bottles come with the messages shown, however they can also be personalized in various ways: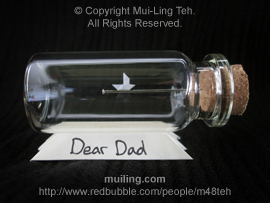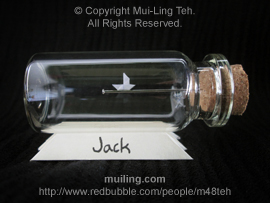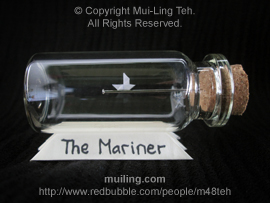 "Life is Journey" makes a great gift for any person; whether it for someone who loves to go sailing, or one who has been through various life experiences. Each bottle comes with a stand labelled "Life is a Journey", however anyone is free to use the other side to personalize it as they like; whether to write their name, a message, the name of their favourite boat, and more.

*The sailboat is glued onto the needle, and I often sell these with the bases inside of the bottle for the customers to take out and set-up at home later. At any time, if you accidentally detach the sailboat from the pin, I would be willing to give you a free replacement as long as I an get back all the pieces of you first purchased piece. You may request a replacement via e-mail. Free replacements will not be issued if there are pieces that are physically broken or damaged, though they may be replaced for a lower price. I will need to be able to pick up the original piece within the GTA.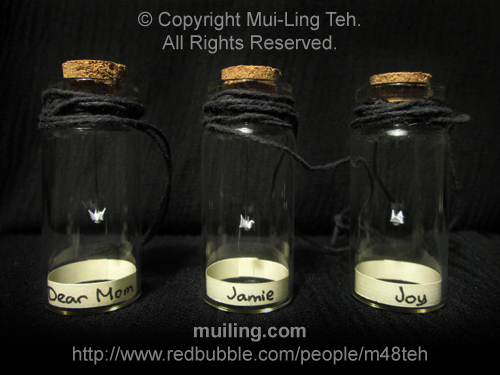 Each bottled crane comes with a rolled-up paper strip with the word "Peace" written on it. Anyone can however replace the paper with something more personalized, and wear it with them, or hang the bottle in a special place where they can look back at the message. Since the crane is a symbol of good luck believed to make a person's wish come true, it is also fitting to write a wish to insert into the bottle to wear or look at on a wall.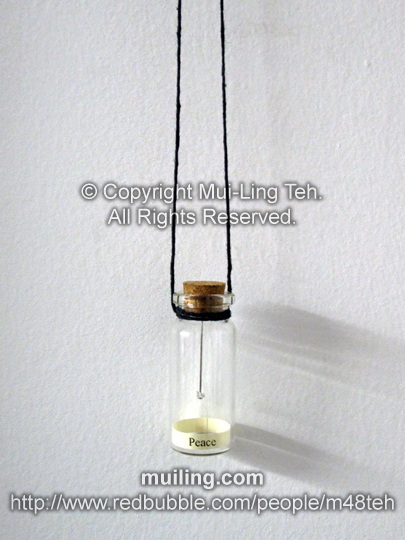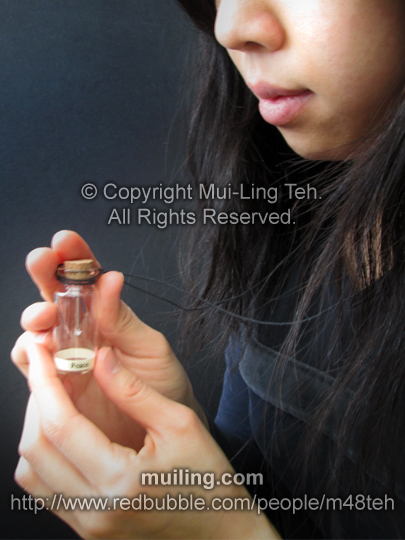 "Peace" (larger version) $15 each ($20 with necklace string):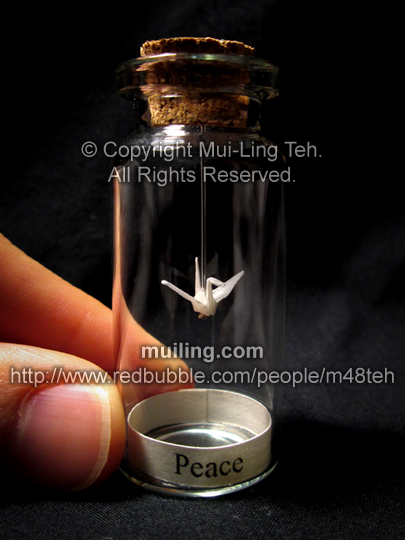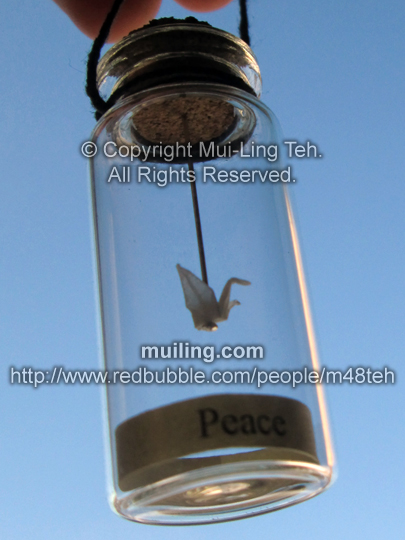 These cranes are folded from a translucent paper, giving them a lighter look as the light shines through their wings making them appear to fly.
Also available in gold for $20 ($25 with necklace string):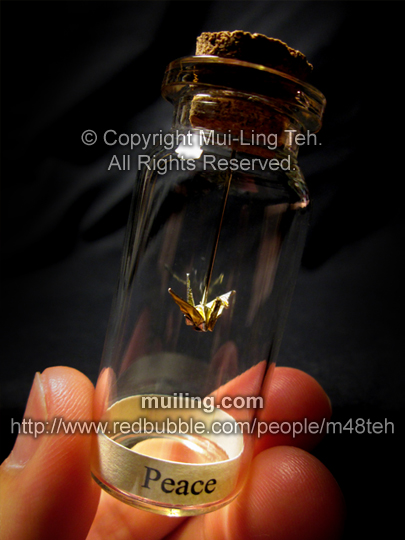 "Joy" Butterflies - $15 each ($20 with necklace string):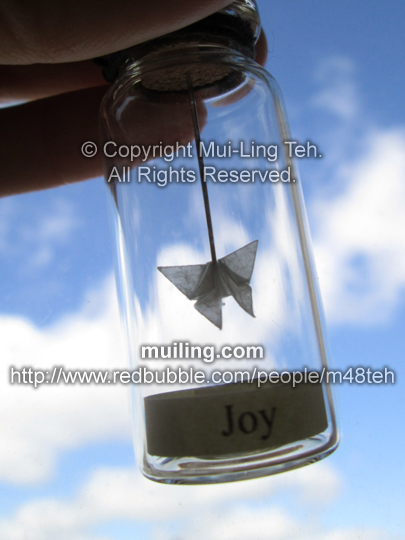 "Love" - Bottled Miniature Origami Heart:
Red heart - $17 ($22 with necklace string)
White heart - $15 ($20 with necklace string)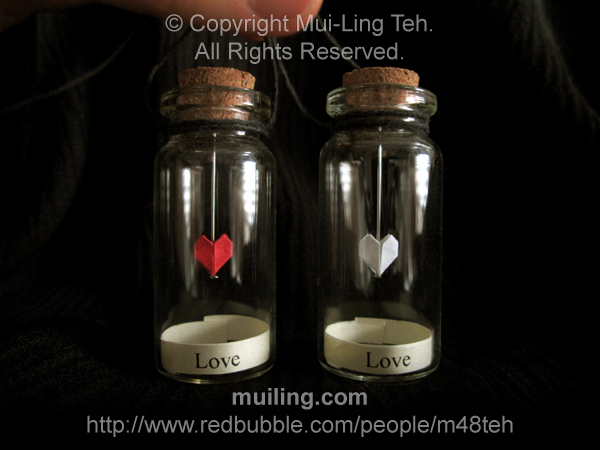 Large Cranes, Hearts and Butterflies can also be made available in colour for $17 each (or $22 if including a necklace string)
Colours available depend on the coloured papers I have in stock.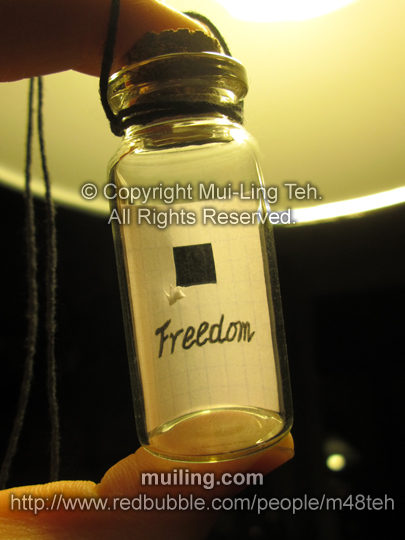 Based on my artwork with the same name, "Freedom" was folded from a square with a corner left uncut so that the crane would still be attached to the paper once folded. Delicate work was required so that the crane would not rip off the paper.

Buy "Freedom" with the written word for $35 ($40 with string)

Or get a blank version for $25 ($30 with string),
and write your name, personalized message, or your wish.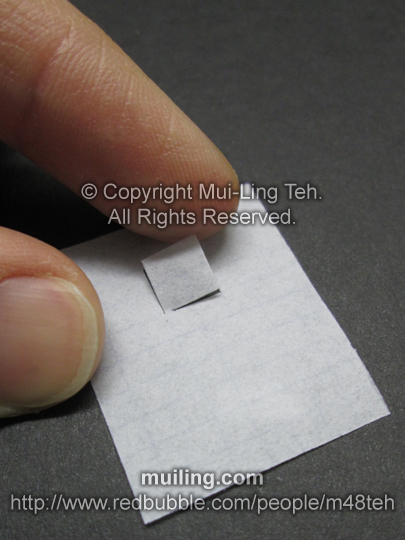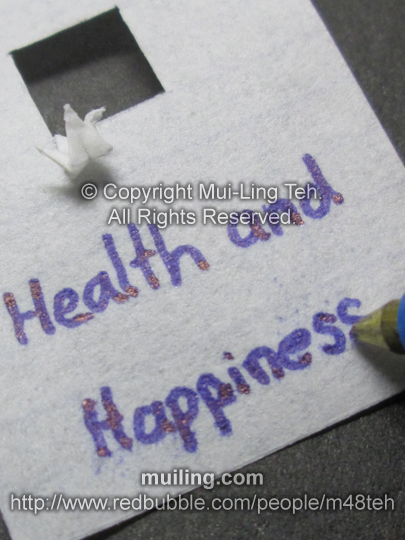 Bottled Miniature Origami Flowers - $20 each: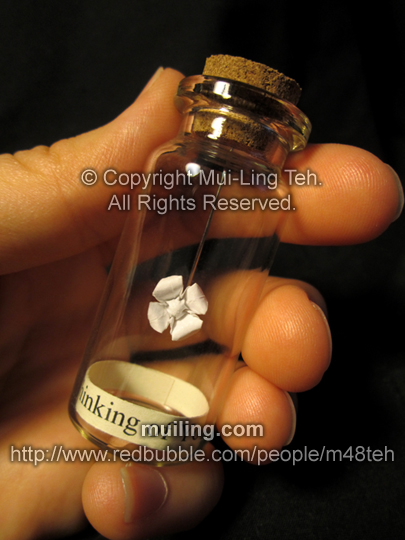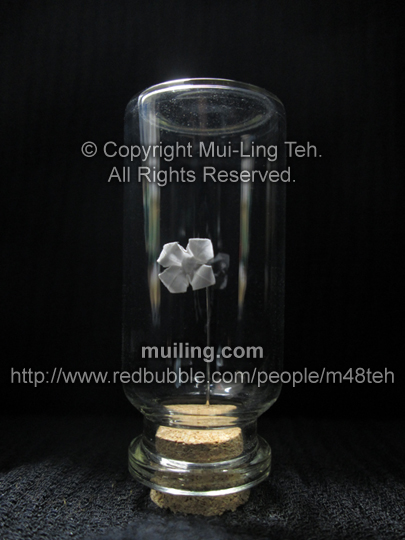 These can be enjoyed upright, or upside down.
Also available in gold or as poppies for $25 each: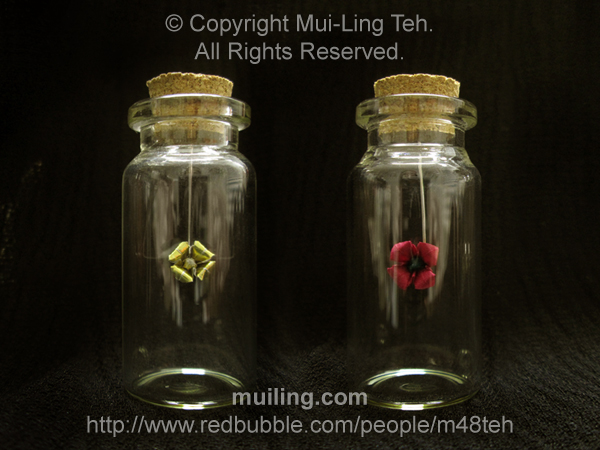 Spinning Pinwheels:
*As of August 2014, I have revised the spinning mechanism, and now the pinwheels spin more effectively. If you have bought a pinwheel from me previously, and it has trouble spinning, you are welcome to bring me your pinwheel during any of my events, and I will be happy to fix it for you free of charge.
Plain pinwheel available in white, yellow or green - $15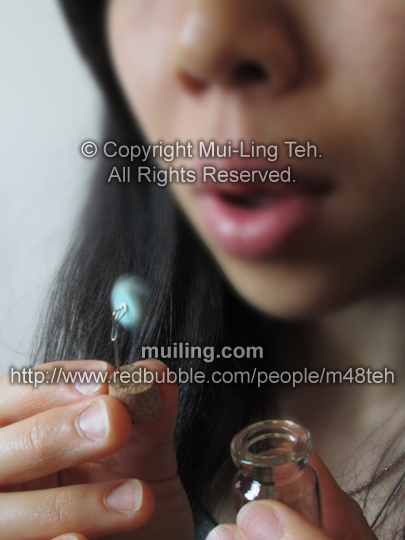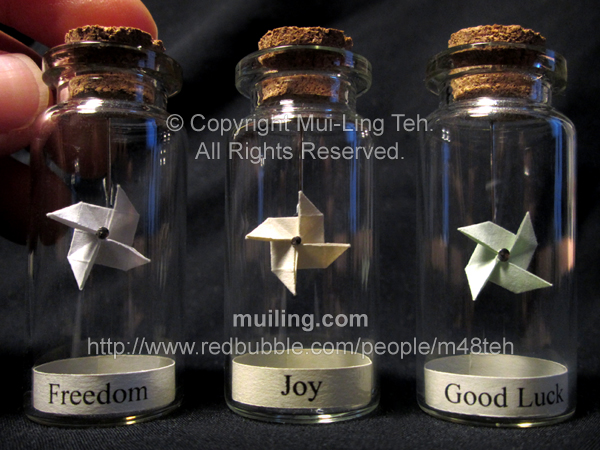 Half-coloured pinwheel - $17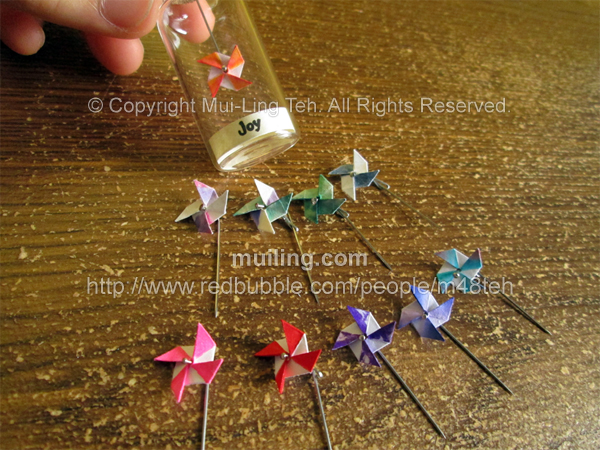 Plain translucent pinwheel - $17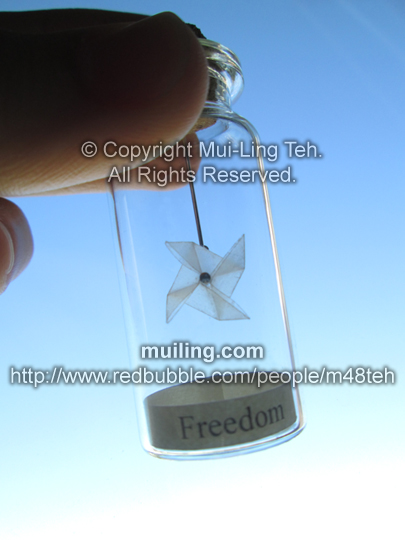 Translucent Half-coloured pinwheel - $20
Fully coloured pinwheel - $20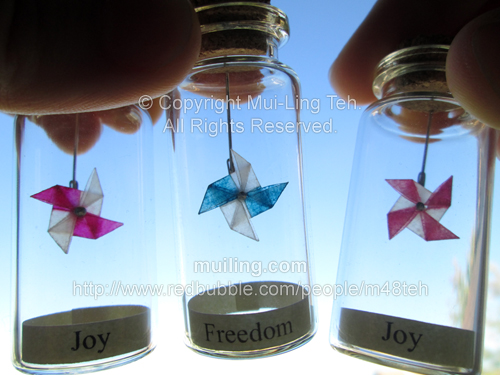 Yellow Stars - $17 each: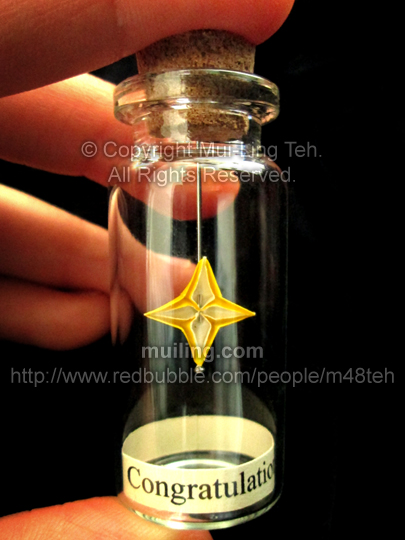 Animals - $17:

Each of the 12 animals from the Chinese Zodiac can be bought as bottles alone for $17 or with hanging/necklace strings $22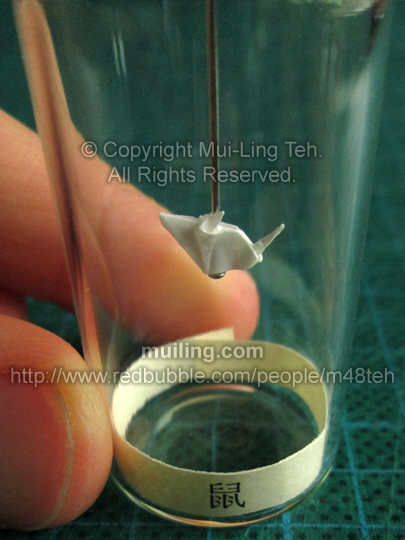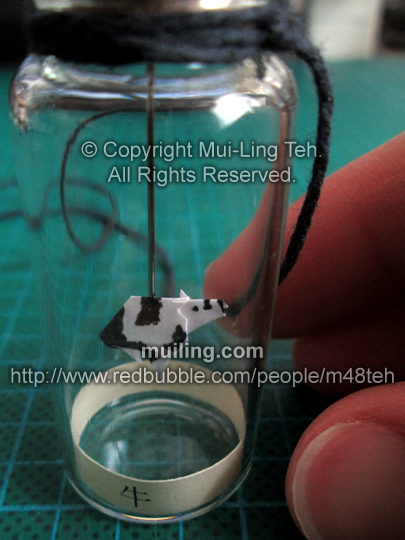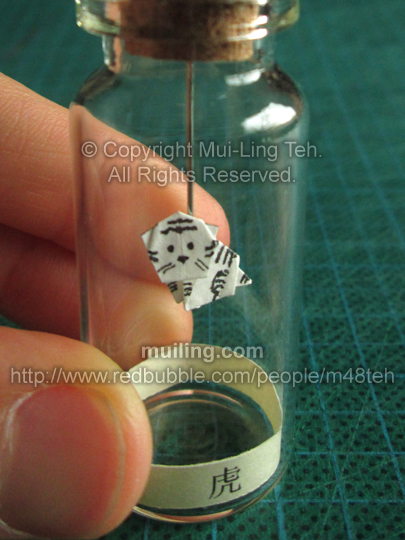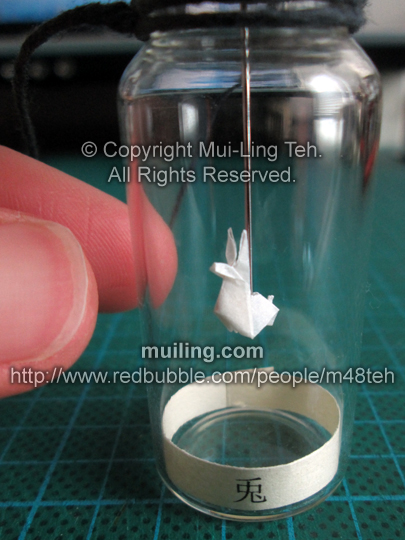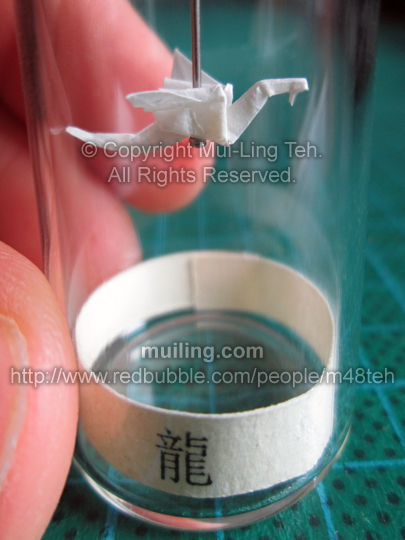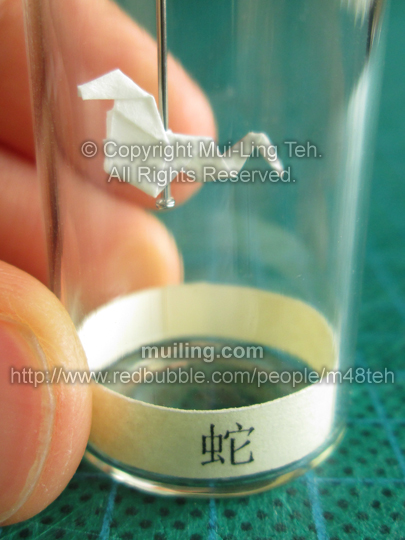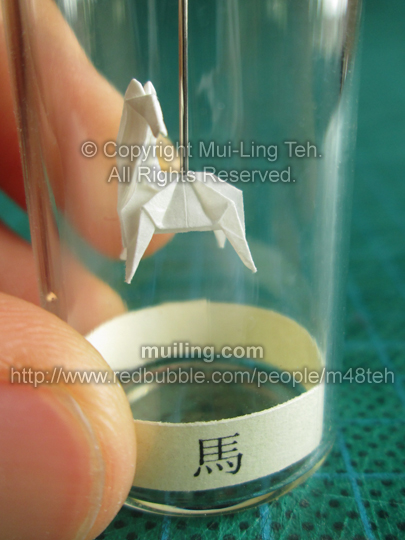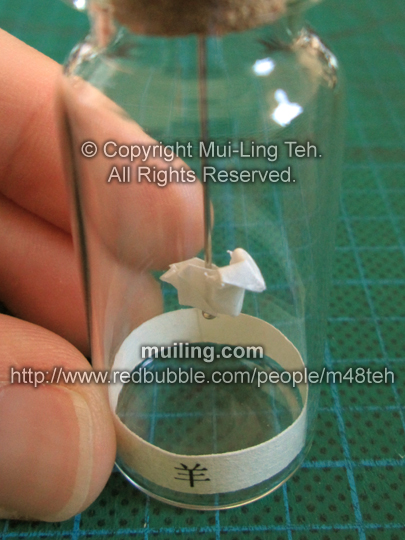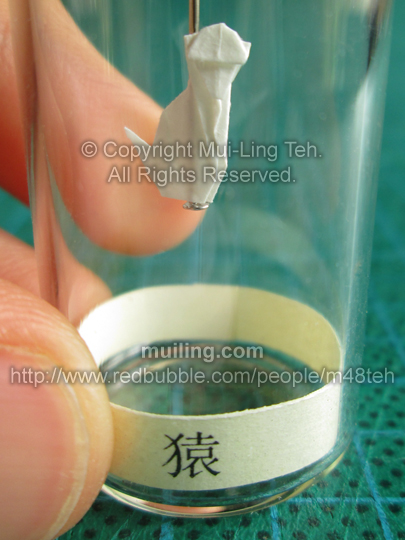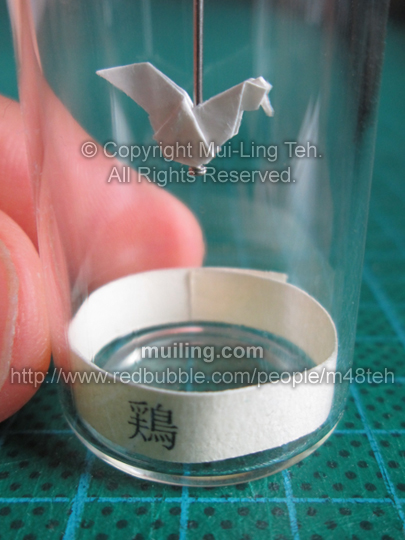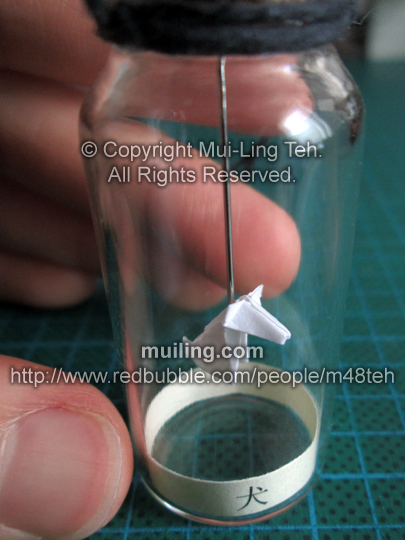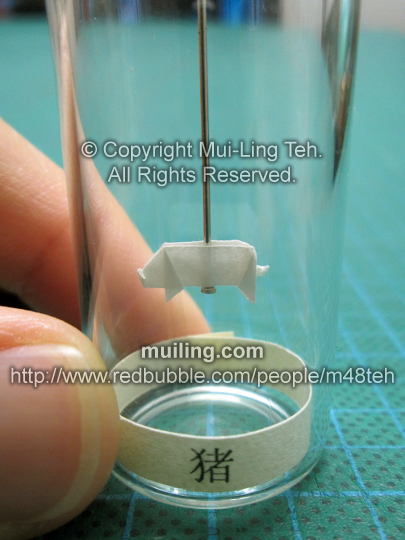 The labels at the bottom are the animal names written in kanji. But like any other bottle, you can personalize them as you wish (e.g. "Happy Easter!")
3 cranes in a bottle - $55 ($60 with necklace string):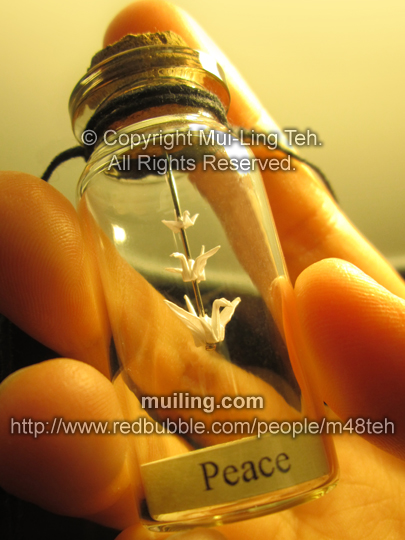 Hand-coloured Flower and Butterfly - $55:
(or $25 without the butterfly)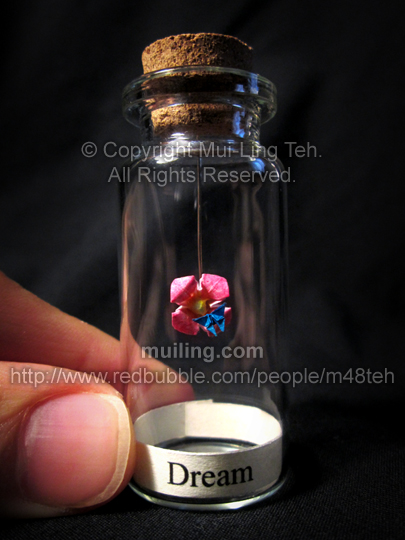 By request only, black labels with bold white text can be made for an additional $0.50. These will not be available during live events unless a client makes prior arrangement to pick up their order during an event.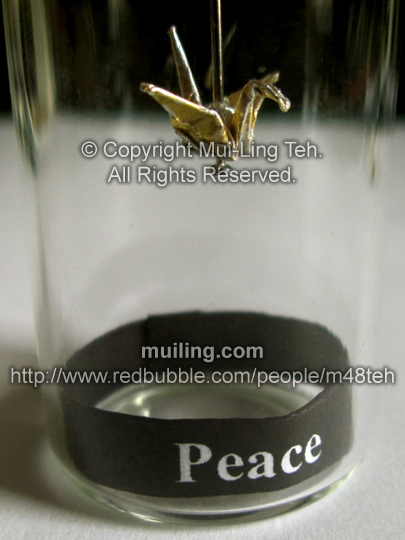 Along with bottled miniatures, I have sold individual pieces of basic origami models at slightly larger sizes in the past for as low as $1.50.
Feel free to contact me if you wish to purchase any individual piece of origami. You can see additional examples of miniature origami models I have made in the past here. I am open to creating something new as well.
I can also make custom transparent cases by hand: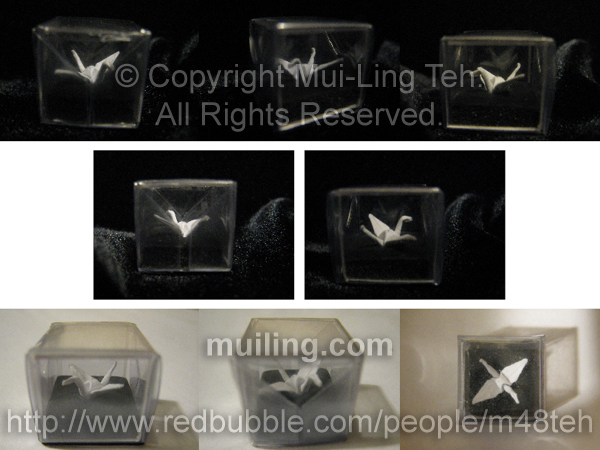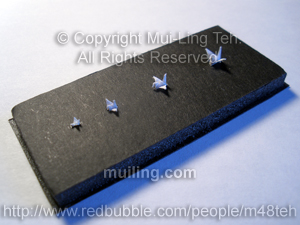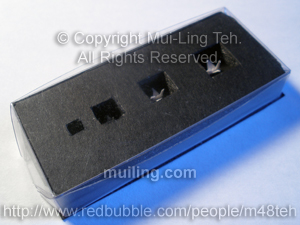 Remember to stay tuned for new origami items!
Cards and other Printed Gift Items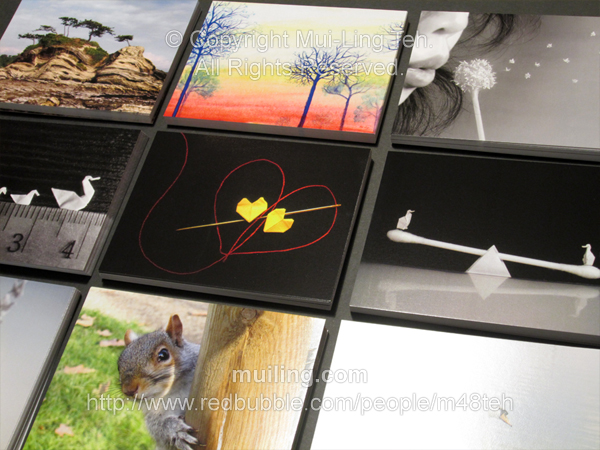 I sell postcards online at Redbubble and Zazzle, however I currently have bulks of postcards on hand that you can buy cheaper if you are in the GTA. I have 20 images available in large quantities. These include:

Sunset with Blue Trees
Red String of Fate
3cm Family Swim
Peek-a-Boo
Golden Clover Dreams
Mind Labour
Inside my little heart
Sweet Angel Eyes
Arctic Playground
Sailing Along the Lifeline
Wish
Born from the Cell - scale reference
Life is a Game
A year went by in a single day
Big Ben ticks Goodnight
Colonnade
Shiroyama
Like a White Cloud
Spring Beginnings
Fly

I am selling my postcards for $2 each, or the full set of 20 images for $20. (Delivery charges may apply for small purchases).
The postcards I have are not from Redbubble or Zazzle, hence their formats will be different from what I have in either site.

See photos of my postcards here

Bear note that due to the way light reflects, these postcards may not appear in my photos the way that they should; these photos are mainly to show how much of the image is shown in each postcard. To see clearer images of the printed artwork, visit the links within each image. All postcards are of high quality, printed on heavy card stock with a premium glossy finish.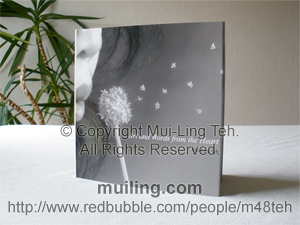 I currently have 5 copies of my book on hand. If you are already buying something from me, and are also interested in my book I can include them in your purchase. I am selling my book at $40 each, and will provide free and instant delivery!
To make an order, send me an e-mail
All content here is © Copyright Mui-Ling Teh, All Rights Reserved, and may not be used without my permission. Any site using my images against my conditions have not sought proper permission and should be reported or brought to my attention immediately.