(Last updated 2014/10/03)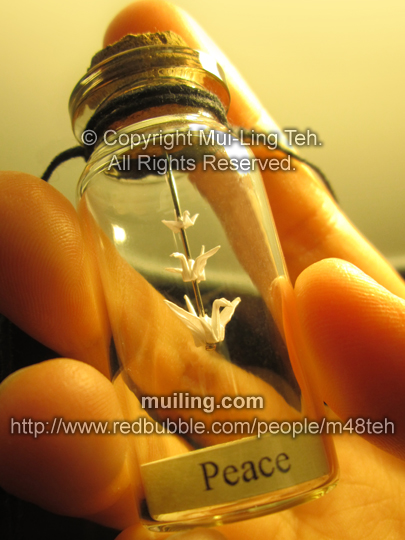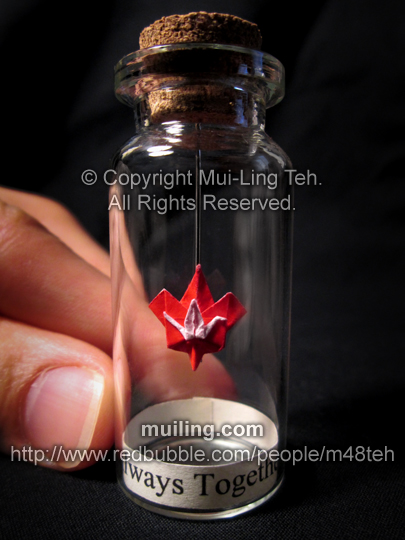 In my past few events, my tables/space have been mostly dominated by bottled origami pieces. In a small area however I would always also have a collection of assorted miniature pieces that I sell for between $1 - $3.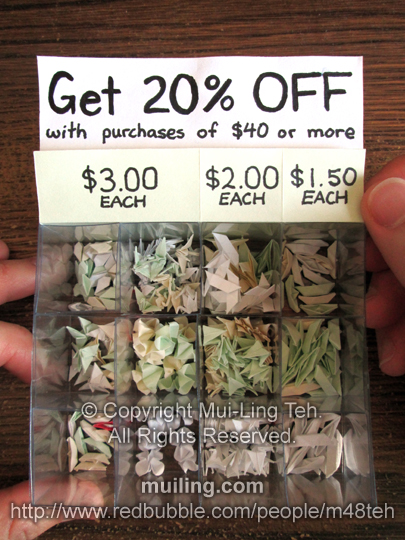 Among my bottled miniatures, my spinning pinwheels have been one of the most popular. As such, I have decided to start making some on their own. These are slightly bigger than my bottled ones and they spin beautifully!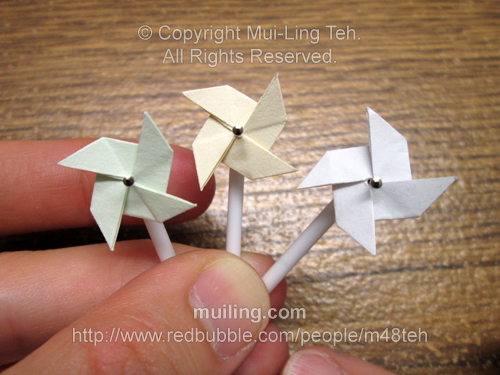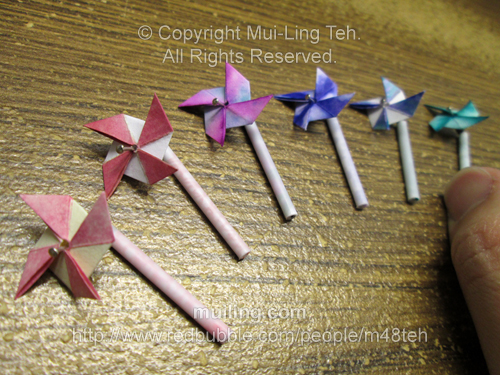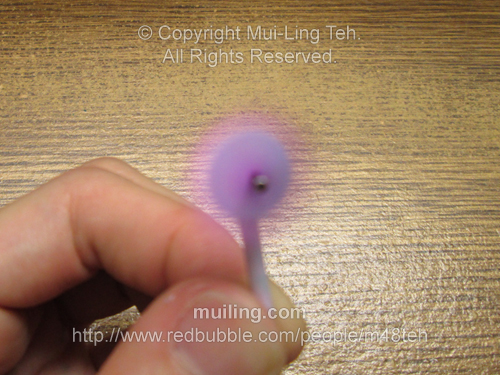 Plain paper pinwheels are available for $4
(Available in green, yellow, or white)

Hand coloured pinwheels are available for $5
Individual origami pieces and pinwheels can be delivered if desired, but bear in mind that I may charge for delivery on small purchases.
Most of these bottled origami miniatures come with messages inside of them. I can also make other custom messages upon request; hence these bottles are great gifts for any occasion, whether it is for a birthday, a holiday, celebration, farewell, encouragement, and more.
See labels that I have here.
Necklace strings can also be added to bottles for an additional $5.
Browse the sections below to see what I have available

You may also browse by price here.

Prices listed are based on bottles without strings. Most of these bottles range between $13-$25, with some being much higher (namely those with very small models).
cranes

(Last updated 2014/09/30)

(Last updated 2014/09/30)


(Last updated 2014/09/25)

(Last updated 2014/09/25)





(Last updated 2014/10/03)




(Last updated 2014/09/25)

(Last updated 2014/09/25)

(Last updated 2014/09/25)

(Last updated 2014/09/25)
Each bottle can be accompanied by any word or personalized message.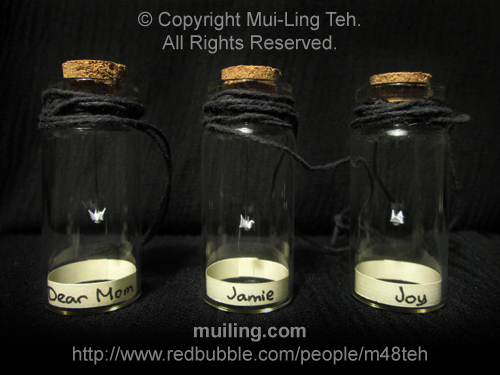 For many of these messages, I now have typed ones available in stock.
See what I have available here
Necklace strings can added to bottles for an additional $5.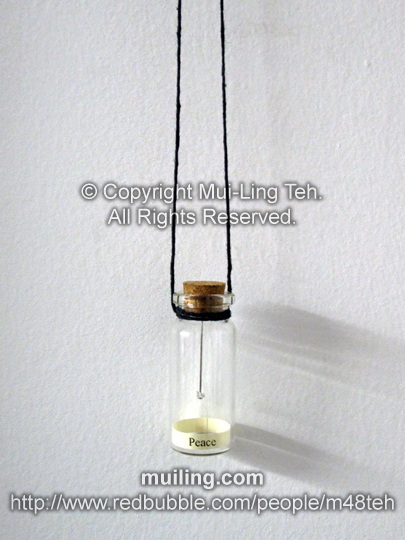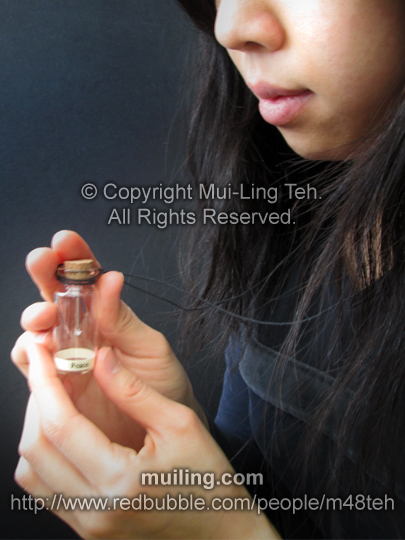 Alternatively, a short hanging string can be added for $1.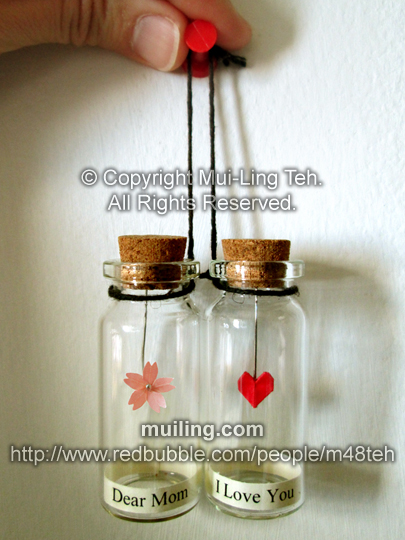 By request only, black labels with bold white text can be made for an additional $0.50. These will not be available during live events unless a client makes prior arrangement to pick up their order during an event.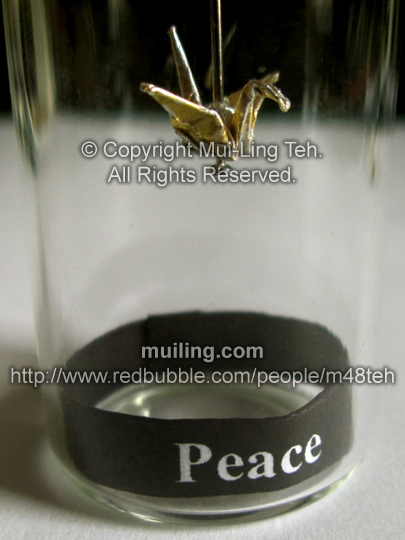 Along with bottled miniatures, I have sold individual pieces of basic origami models at slightly larger sizes in the past for as low as $1.50.
Feel free to contact me if you wish to purchase any individual piece of origami. You can see additional examples of miniature origami models I have made in the past here. I am open to creating something new as well.
I can also make custom transparent cases by hand: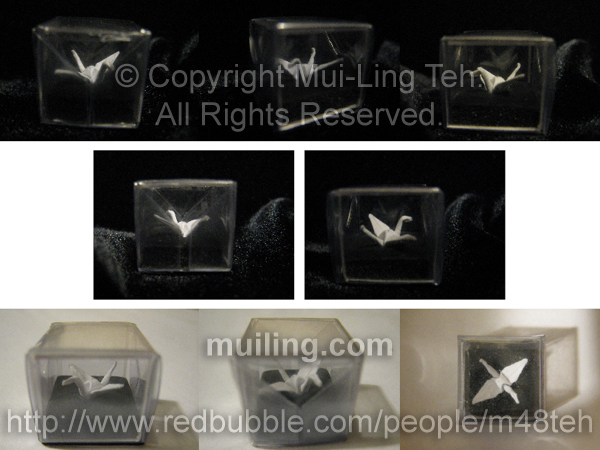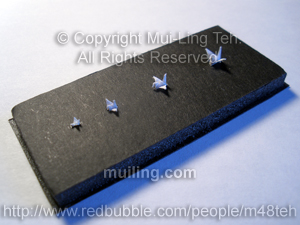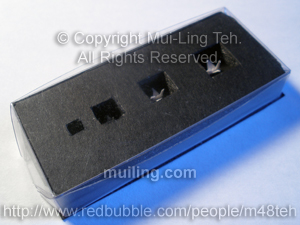 Remember to stay tuned for new origami items!
Cards and other Printed Gift Items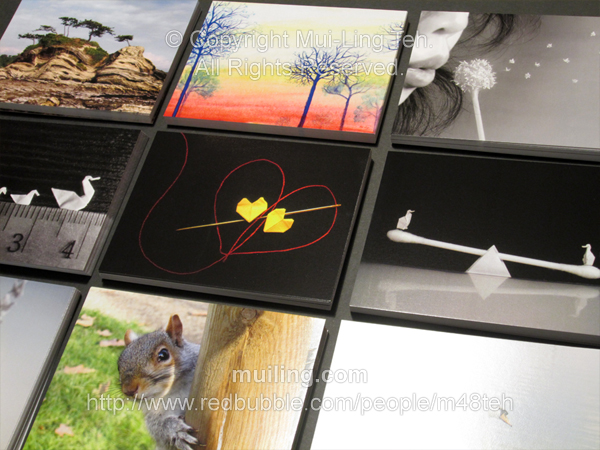 I sell postcards online at Redbubble and Zazzle, however I currently have bulks of postcards on hand that you can buy cheaper if you are in the GTA. I have 20 images available in large quantities. These include:

Sunset with Blue Trees
Red String of Fate
3cm Family Swim
Peek-a-Boo
Golden Clover Dreams
Mind Labour
Inside my little heart
Sweet Angel Eyes
Arctic Playground
Sailing Along the Lifeline
Wish
Born from the Cell - scale reference
Life is a Game
A year went by in a single day
Big Ben ticks Goodnight
Colonnade
Shiroyama
Like a White Cloud
Spring Beginnings
Fly

I am selling my postcards for $2 each, or the full set of 20 images for $20. (Delivery charges may apply for small purchases).
The postcards I have are not from Redbubble or Zazzle, hence their formats will be different from what I have in either site.

See photos of my postcards here

Bear note that due to the way light reflects, these postcards may not appear in my photos the way that they should; these photos are mainly to show how much of the image is shown in each postcard. To see clearer images of the printed artwork, visit the links within each image. All postcards are of high quality, printed on heavy card stock with a premium glossy finish.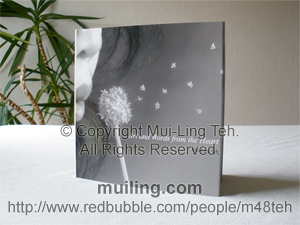 I currently have 4 copies of my book on hand. If you are already buying something from me, and are also interested in my book I can include them in your purchase. I am selling my book at $40 each, and will provide free and instant delivery!
To make an order, send me an e-mail
All content here is © Copyright Mui-Ling Teh, All Rights Reserved, and may not be used without my permission. Any site using my images against my conditions have not sought proper permission and should be reported or brought to my attention immediately.