Bottled Origami Miniatures:
Animals
(Last updated 2018/01/14)
Orders can be made via e-mail
Orange Fox - $17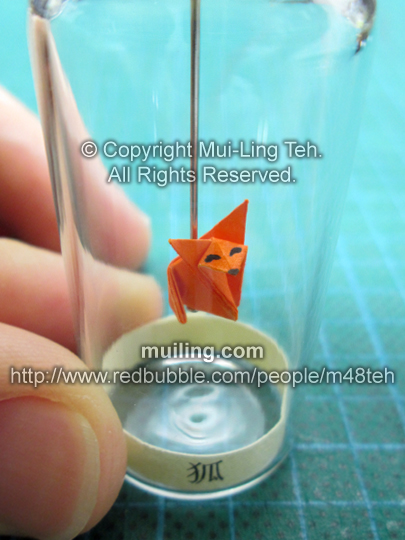 The label shown says "fox" in Japanese, but I can also substitute is with something else.
Orange Koi - $17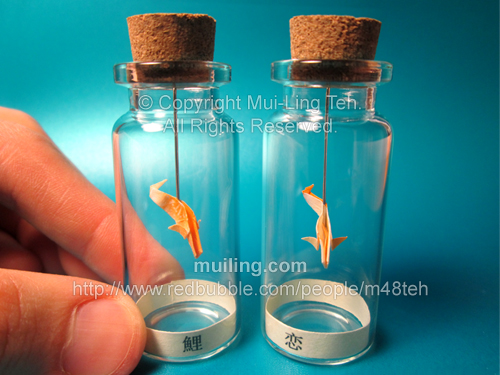 (The tone of orange and patterns in the paper vary)
In Japanese, the word "koi" means carp, which also means "love". Therefore carps are symbolic of love and friendship in Japan. The kanji character on the left one refers to the carp; the one on the right says love.
Animals of the Chinese Zodiac
$17 each ($22 with string)
Each animal can be bought with or without string. The labels at the bottom are the animal names written in Japanese kanji (some of which maybe different from Chinese). But like any other bottle, you can personalize them as you wish (e.g. "Happy Easter!")
You can see some other example labels here.
Each person's associated animal is dependant on their year of birth, and the cycle repeats every twelve years:


鼠 -



Rat

(...1948, 1960, 1972, 1984, 1997, 2008...)

牛 -

Cow

(...1949, 1961, 1973, 1985, 1997, 2009...)

虎 -

Tiger

(...1950, 1962, 1974, 1986, 1998, 2010...)

兎 -

Rabbit

(...1951, 1963, 1975, 1987, 1999, 2011...)

龍 -

Dragon

(...1952, 1964, 1976, 1988, 2000, 2012...)

蛇 -

Snake

(...1953, 1965, 1977, 1989, 2001, 2013...)

馬 -

Horse

(...1954, 1966, 1978, 1990, 2002, 2014...)

羊 -

Goat (Chinese calendar)
Lamb (Japanese calendar)

(...1955, 1967, 1979, 1991, 2003, 2015...)


猿 -

Monkey

(...1956, 1968, 1980, 1992, 2004, 2016...)

鶏 -

Rooster

(...1957, 1969, 1981, 1993, 2005, 2017...)

犬 -

Dog

(...1958, 1970, 1982, 1994, 2006, 2018...)

猪 -

Pig

(...1959, 1971, 1983, 1995, 2007, 2019...)

Rat

Cow

Tiger

Rabbit

Dragon

Snake

Horse


Lamb (Japanese calendar)
/Goat (Chinese calendar)



Monkey
New design available;
see below


Rooster

Dog

Pig
Lucky 8 Dog - $17 each: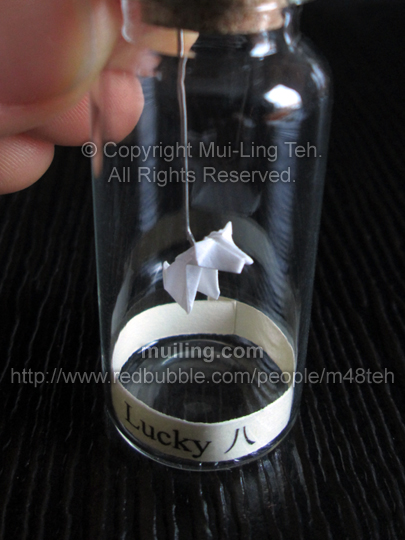 Labels in any of the bottles can be substituted for another. In honour of the 2018 year of the dog, I felt inspired to substitute the 犬 label in my dog bottle with Lucky 八
八 "Hachi" means 8 in Japanese. The same character is also used in Chinese. This idea was inspired by a true story about a dog named Hachiko, and the fact that 8 is a lucky number in Japanese and Chinese culture; while Lucky is a common dog's name in western culture. Learn more here
Monkey Option 2 - $17 each: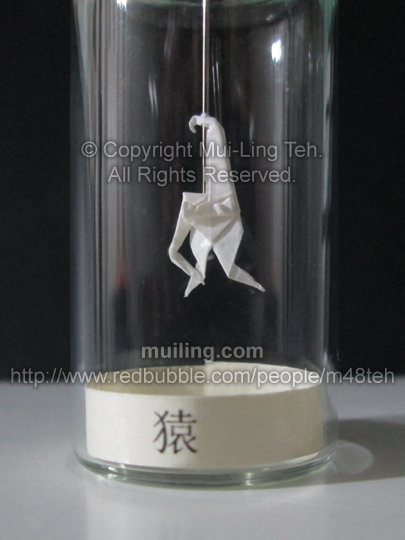 Coloured Animals - $19 each: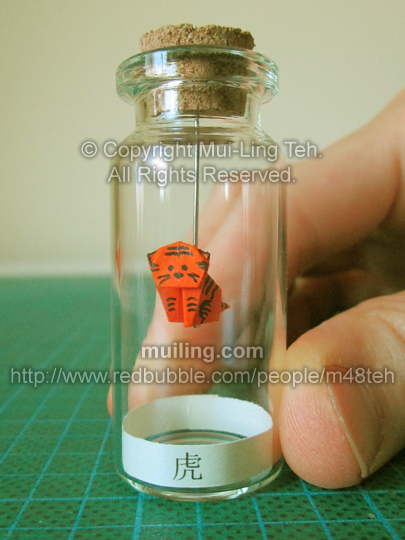 Animals can be made in any colour desired upon request.
Animals using nicer colourful paper, or that need to be custom coloured by hand may cost extra
Blue Pisces with black label and necklace string - $30
(By request)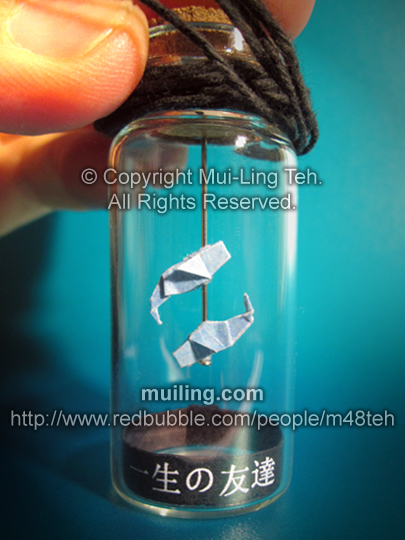 This was a custom piece that I made on request for a customer
The label at the bottom says "Isshō no tomodachi" (一生の友達) meaning "Lifetime Friends" (a Japanese way of saying "Friends Forever")
Nine-Tailed Fox:

White - $35
Orange - $37

This is an adaptation of the ordinary fox model that I came up with. I can use labels that says "kyuubi" (九尾 - nine tails) or "kyuubi no kitsune" (九尾の狐 - nine-tailed fox) or any other custom label as you please or depending on an occasion.

I made the mouth open for the nine-tailed fox, however I can also keep it closed like the ordinary fox if desired.

See some of the labels I have here
Origami Bear holding a paper crane; with a black label - $50

This is the model I donated for an auction to help the victims of the the earthquake disaster in Kumamoto, Japan. This item is not longer available, however I am happy to make a new similar model upon request.
Learn more about the piece above here
More animals are coming and I'm always happy to take requests!
All content here is © Copyright Mui-Ling Teh, All Rights Reserved, and may not be used without my permission. Any site using my images against my conditions have not sought proper permission and should be reported or brought to my attention immediately.
Back to Upcoming Events and Original Art For Sale