Crane Maple Leaf - $25 each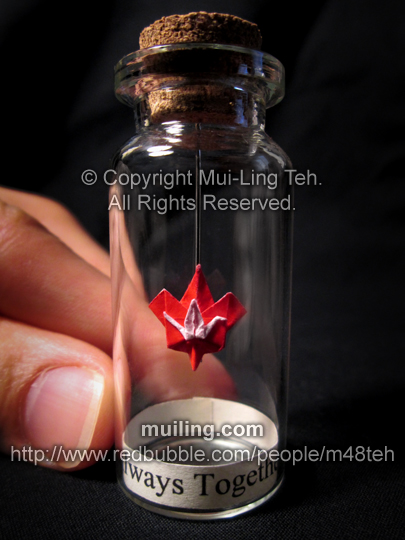 This is a design I came up with myself; and like the crane heart, it is folded out of a single paper. This, as well as the maple leaf alone (see Shapes), makes a great gift and souvenir to those visiting or leaving Canada.

Since 2013 I have made many new Japanese friends in Canada. Most of them came from Japan on visas - some have already went back to their home country. But regardless of whether we are near or far, we are always together.
Extra Small Cranes - $35 each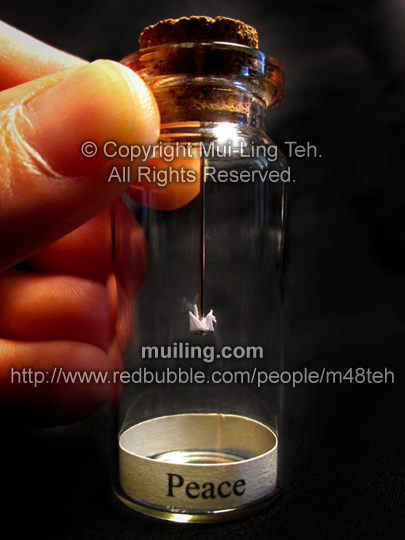 "Freedom" - $35 each ($40 with string)
Or get a blank version for $25 ($30 with string),
and write your name, personalized message, or your wish.

Based on my artwork with the same name, "Freedom" was folded from a square with a corner left uncut so that the crane would still be attached to the paper once folded. Delicate work was required so that the crane would not rip off the paper.
Statue of Sadako Sasaki holding a golden crane - $50 each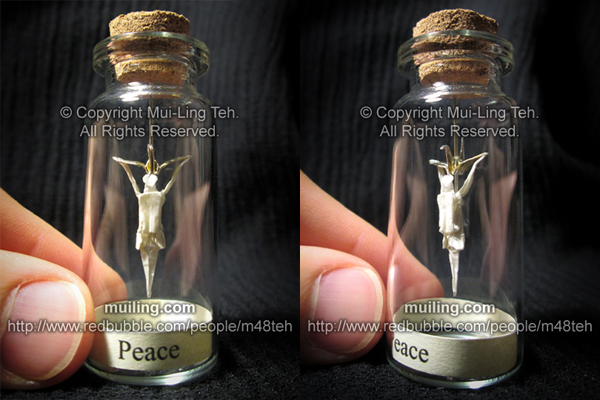 Based on the Statue of Sadako Sasaki in Hiroshima Peace Park.
Origami Bear holding a paper crane; with a black label - $50

This is the model I donated for an auction to help the victims of the the earthquake disaster in Kumamoto, Japan. This item is not longer available, however I am happy to make a new similar model upon request.
Learn more about the piece above here
3 cranes in a bottle - $55 ($60 with necklace string)

Crane leaf, Maple leaves and a miniature crane - $100
(or $67 without the small crane at the bottom)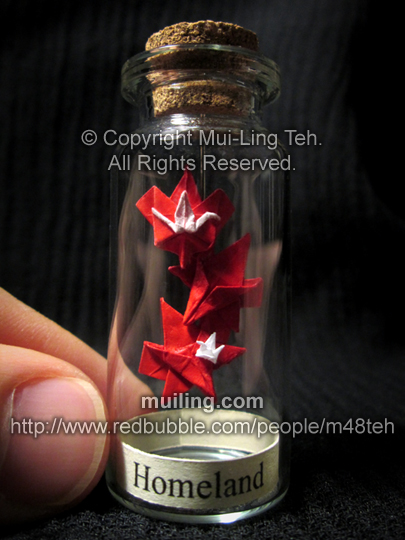 Inspired by the Japanese people I meet in Toronto. Many are overwhelmed by the big world surrounding them when they first arrive in Canada, but overtime grow to be a big part of it and call Canada their home.
All content here is © Copyright Mui-Ling Teh, All Rights Reserved, and may not be used without my permission. Any site using my images against my conditions have not sought proper permission and should be reported or brought to my attention immediately.
Back to Upcoming Events and Original Art For Sale