In my past few events, my tables/space have been mostly dominated by bottled origami pieces. In a small area however I would always also have a collection of assorted miniature pieces that I sell for between $1 - $3.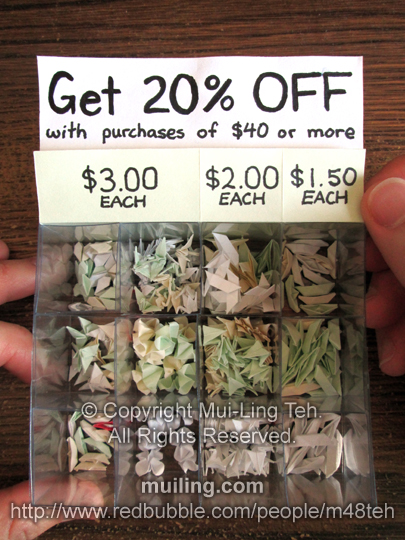 Among my bottled miniatures, my spinning pinwheels have been one of the most popular. As such, I have decided to start making some on their own. These are slightly bigger than my bottled ones and they spin beautifully!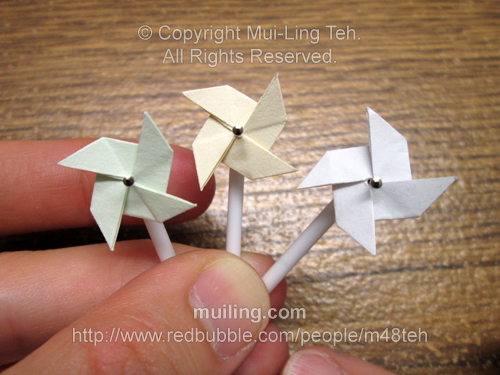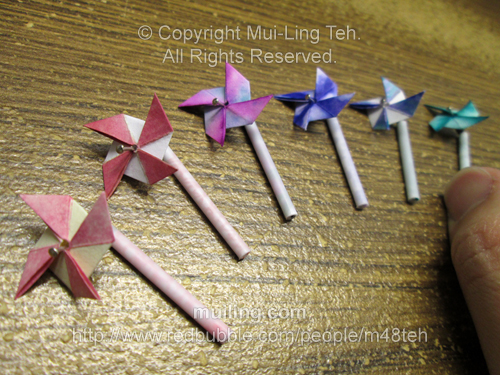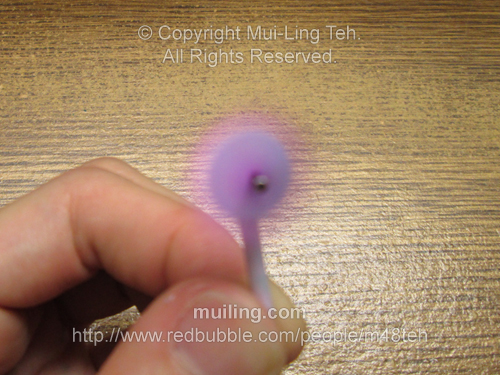 Plain paper pinwheels -$4
(Available in green, yellow, or white)

Hand coloured pinwheels - $5
Cherry blossom pinwheels - $5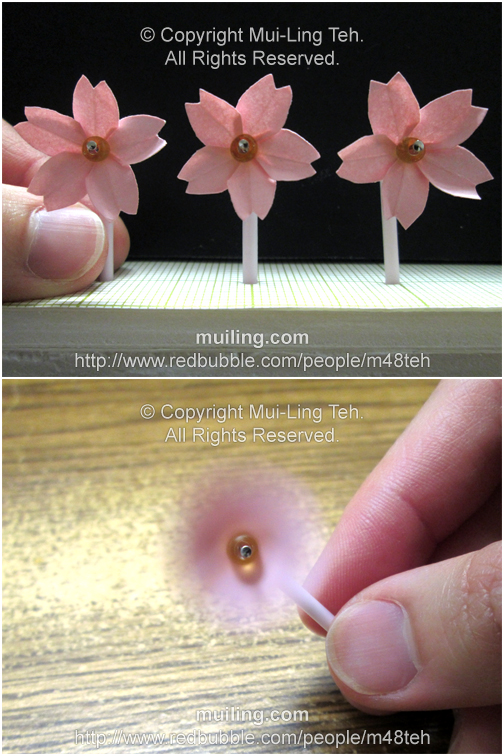 Custom boxes may also be requested. See examples here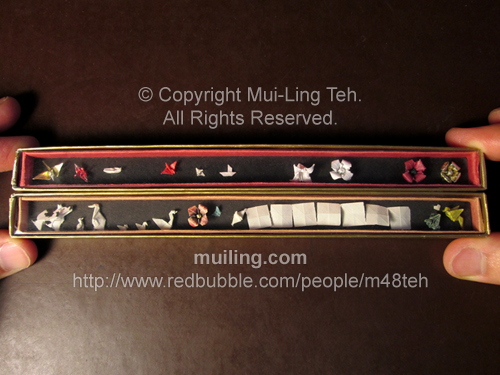 I am open to creating new items upon request.
See additional examples of my past work here.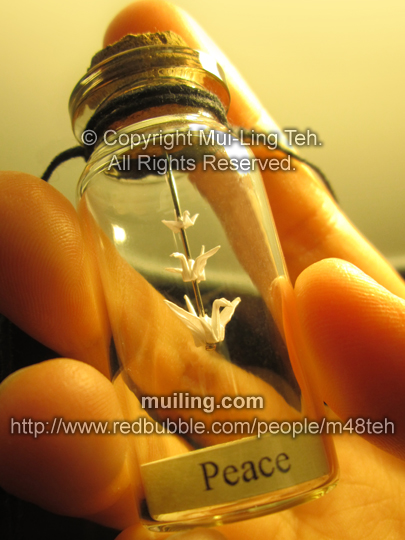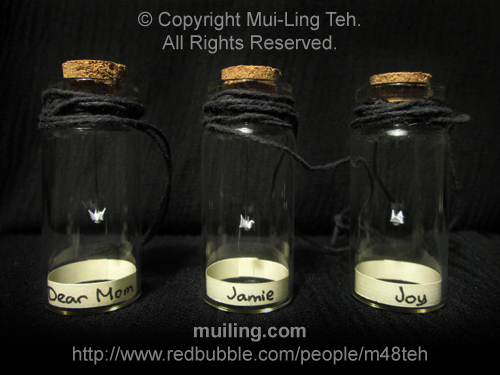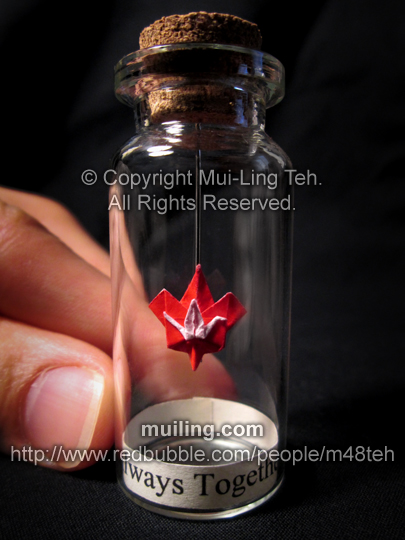 Most of these bottles come with messages inside of them.
I can also make other custom messages upon request.

These personalized bottles make great gifts for many occasions,
including birthdays, holidays, celebrations, farewells, and more.
See labels I have here.
By request only, black labels with bold white text can be made for an additional $1. These will not be available during live events unless a client makes prior arrangement to pick up their order during an event.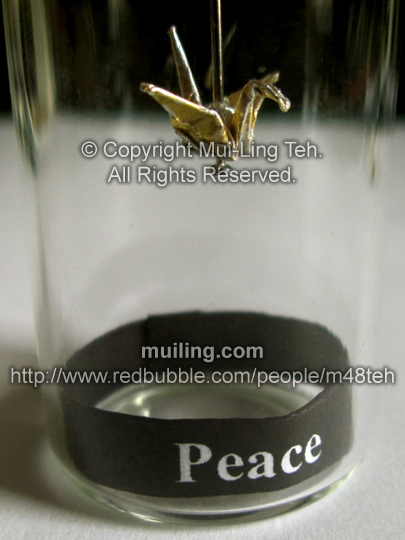 Necklace strings can also be added to bottles for an additional $5.
Alternatively short hanging strings are can be added for $1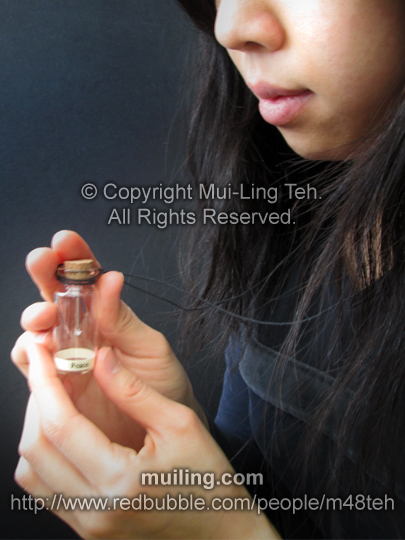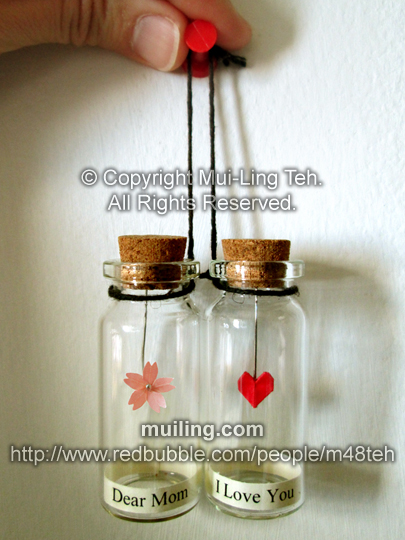 Browse the sections below to see what I have available

You may also browse by price here.

Prices listed are based on bottles without strings.
Most of the bottles range between $6-$25.
Last updated:
2018/07/02




Last updated:
2016/12/31


Last updated:
2015/06/11

Last updated:
2015/05/08





Last updated:
2018/01/14




Last updated
2015/06/11

Last updated:
2016/12/27

Last updated
2014/09/25

Last updated
2014/09/25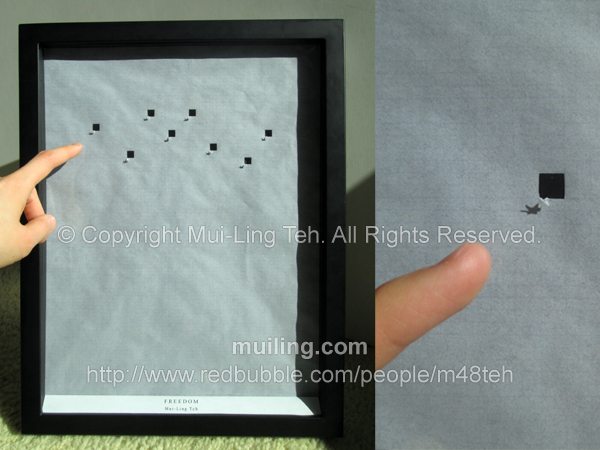 Freedom - $500
14.5" x 11.25"
Freedom was a concept I developed in 2010, and in 2014 I recreated a framed version if it. The creation of 'Freedom' was a very delicate process; each crane was folded out of cut squares, with only a corner of those squares still attached to the paper. While folding the cranes I had to be very careful not to rip them off the paper; and with 8 cranes to fold, if anything ripped off towards completion, the work done previously would go to waste.
Even after completing all the cranes, there was still work to do, which involved modifying the frame. There is also a space between the white paper and the black paper in the back to create a greater sense of depth.
A small version is also available for $100
170mm x 118mm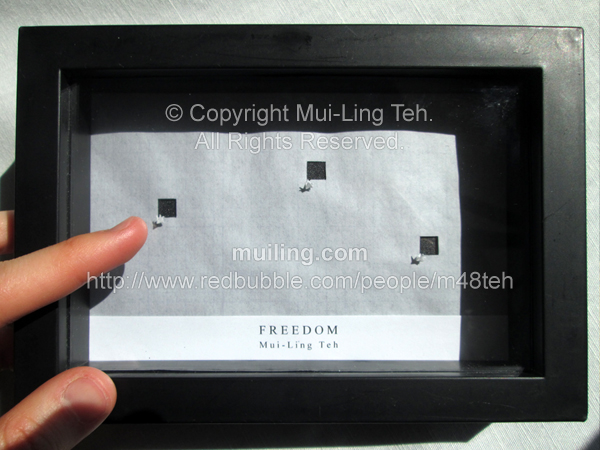 I can make custom boxes and cases by hand: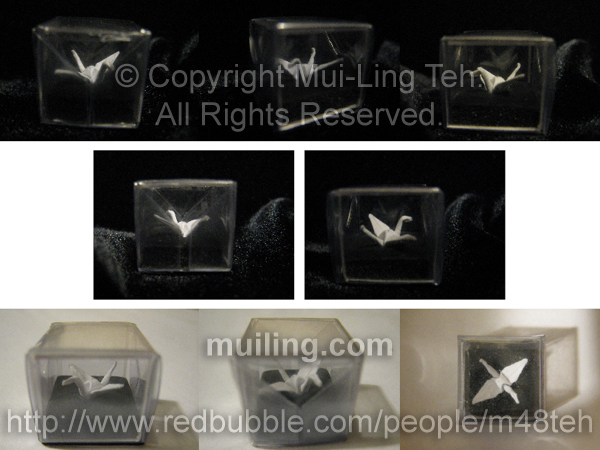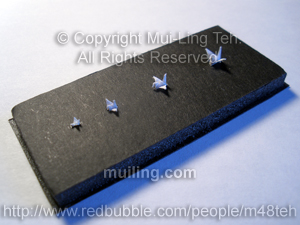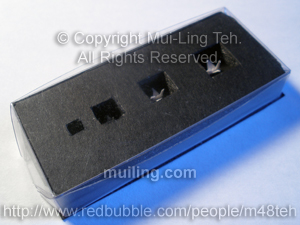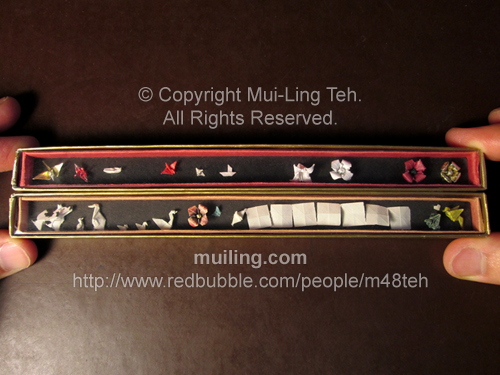 I would also be happy to explore other custom options.
To make an order, send me an e-mail
All content here is © Copyright Mui-Ling Teh, All Rights Reserved, and may not be used without my permission. Any site using my images against my conditions have not sought proper permission and should be reported or brought to my attention immediately.
Back to Upcoming Events and Original Art For Sale